Help Us Celebrate Our Newest Location
Posted on by Hoag Urgent Care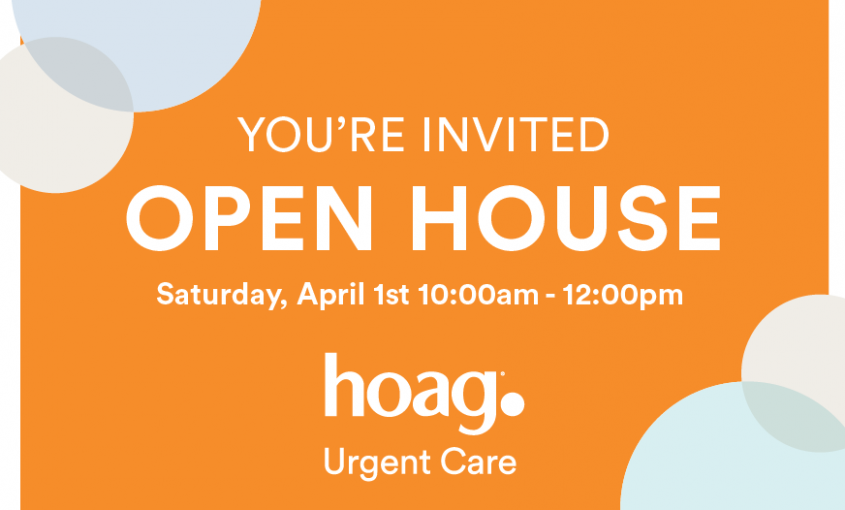 YOU ARE INVITED TO OUR OPEN HOUSE
Please join Hoag Urgent Care as we celebrate our newest location in Costa Mesa.
OPEN HOUSE
April 1, 2023: 10am to 12pm
Hoag Urgent Care: 1190 Baker Street, Costa Mesa, CA 92626
Meet and take a pic with the Easter Bunny!
Free Regal movie ticket to the first 150 adults
Free box of Girl Scout Cookies for first 150 adults (local girl scout troop)
Enter to win 4 Disneyland Tickets, or one of 5 $50 gift certificates for local businesses (Starbucks, Juice It Up, French's Bakery, Finest Nails) (see sweepstakes rules)
Prizes for all ages, balloons, snacks and more
Hoag Urgent Care Costa Mesa will open to care for patients on April 7th. We will be open 7 days a week to treat most illnesses and injuries in both adults and children.
Hoag Urgent Care's continuous growth is a result of our committed and caring staff providing excellent service. No matter which location people choose, whether it is the site closest to their home, work or school, our patients know they can rely on a quick and positive experience. The wait time for patients who make reservations at hoagurgentcare.com averages less than 15 minutes and our patient satisfaction ratings exceed 95%.
If you are sick or injured, trust Hoag Urgent Care to help you feel better faster!
Monday through Friday: 8 a.m. to 8 p.m.
Saturday and Sunday: 8 a.m. to 5 p.m.