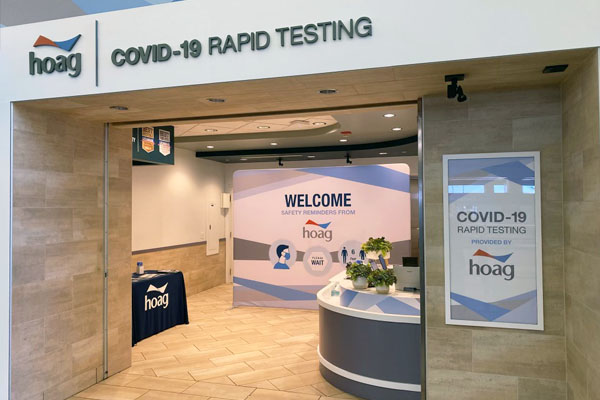 INSURANCE Please check with your health insurance company to verify coverage as some health insurance companies are no longer covering Covid testing out of network. To view the insurance plans we accept, please also visit https://hoagurgentcare.com/insurance/.
RAPID COVID TESTING AT
JOHN WAYNE AIRPORT
Current Wait:

If you are experiencing COVID-19 symptoms, PLEASE DO NOT GO TO THE AIRPORT. Please make a reservation at one of Hoag's 13 Urgent Care locations or call for assistance.
ADDRESS
18601 Airport Way
Terminal B, before TSA security
Santa Ana, CA 92707, USA
949-557-0667
HOURS
Walk-ins welcome between 7:00 am -3:30 pm
Wait times may vary. Please call for details.

Get Directions  
IMPORTANT IF TESTING FOR TRAVEL: We offer the Abbott ID Now PCR Rapid Test. (Different destinations use different verbiage. This test is also referred to as a NAAT (Nucleic Acid Amplification Test), molecular test, nasopharyngeal PCR swab.)  Please make sure to verify that your destination accepts this test. A few countries will not currently accept a rapid test.
IMPORTANT: This location is NOT associated with the OC County self-collection test kits being handed out free at the airport. SELF-COLLECTION TESTS WILL NOT MEET TRAVEL REQUIREMENTS. For information about these kits, contact OC Health directly.
WE DO NOT TEST FOR HAWAII TRAVEL AT THIS LOCATION: Please visit any of our other urgent care locations that can provide this test for you. For more information about Hawaii testing, please visit: https://hoagurgentcare.com/hawaii_travel/
Urgent Care Services Now Available
Urgent Medical Care for Many Illnesses & Injuries
In-Person and Video Medical Visits
Health & Wellness Screenings
Covid Testing
Flu Vaccines
Healthy Travel Consultations